Barbara Paris is featured on six CDs so far: 1992's Where Butterflies Play, Happy Talk which has her joined by Joe Bonner in a quartet, Day By Day with Nancy Wilson's rhythm section (pianist Llew Matthews, bassist John B. Williams and drummer Roy McCurdy), a set of duets with Joe Bonner (P.S. I Love You), Swing, Ballads, Blues & Bossa Nova (a sampler drawn from her earlier recordings), and the most recent set, Nine Decades Of Jazz which features her with the Billy Wallace Trio. While she remains based in Colorado, Paris has plans to make return trips to New York, Paris and Japan. She is looking forward to bringing her music to a larger audience. "I have many ideas for future projects and would love to do a big band recording someday. I plan to keep on performing and recording as much as possible. The music has a life of its own and I trust where it will take me."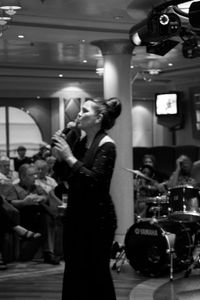 When asked to name a few of her favorite jazz moments, she remembers, "One was performing with Joe Pass at Vine Street in Hollywood, sitting in with him and singing 'If I Should Lose You.' I felt honored to sing with Junior Mance once and to be asked to sit in by Freddie Hubbard. But my favorite gigs were every night with Joe Bonner." Other high points included performing at Pumpkin's in New York with the Jeb Patton Trio, singing on a jazz cruise with some of the sidemen from the Count Basie Orchestra, being featured with a big band at Harlem's Cotton Club, sit-in-in at Minton's and the Lenox Lounge, and working in Europe with the help of altoist Claude Tissendier from the Claude Bolling Orchestra and Saxomania.
In 2012, Barbara began a five-year period working with the late pianist Billy Wallace who recorded "Jazz In 3/4 Time" with Max Roach, accompanied Charlie Parker in the 1950s, worked with Joe Williams, Carmen McRae, and Anita O'Day and appeared opposite stage with Billie Holiday. "I loved our musical encounters. Billy knew 5000 tunes in every key. He gave me musical freedom and the rare opportunity to sing such songs as 'It Shouldn't Happen To A Dream' and 'If You Go Away." 
Barbara considers her main musical influences to be Lil Green, Billie Holiday, Etta Jones, Shirley Horn, Sarah Vaughan and her brother and father although she is inspired by many different artists. 
 Born in Denver, Barbara remembers hearing Nat King Cole, Dinah Washington, Mel Torme and Frank Sinatra from an early age. Her father always sang and she did the same. "Before I could even speak, I could sing little rhymes and songs that he sang to me. Growing up I listened constantly to the radio and one of my friends later said that I knew every word to every song played on the radio." She performed with her gospel church choir, played violin, took piano lessons, and started playing the guitar when she was 15. Barbara performed folk music as a teenager. Having worked at a jazz supper club found that "while I loved folk music and its acoustic quality, I gravitated to jazz which was more gratifying."
After graduating from high school when she was 16 and beginning a successful career as a hairdresser in Boulder, Colorado, Barbara could feel that something was missing. "There was a part of me that could not go on anymore without singing and I knew that I had to sing." During a vacation in St. Thomas, she met Eddie Shu, a veteran multi-instrumentalist who had worked with Louis Armstrong and Gene Krupa. After hearing her sing, he gave Barbara some Billie Holiday records, encouraged her, and told her that all she needed was a band. She has not stopped since.
Barbara Paris made her debut as a jazz singer during a trip to Paris. On the same trip an acquaintance told her about the legendary pianist Joe Bonner who was living in Denver and suggested that she look him up. After a bit of a search, Barbara found the pianist (who had worked with Freddie Hubbard, Pharoah Sanders and Woody Shaw) and quickly realized that "he was playing music similar to what I heard in my head." Their musical partnership continued for 23 years up until shortly before his passing in 2014. "I learned so much from Joe. We were musical soul mates."